Queen's Awards For Innovation
The Queen's Award For Enterprise
The Queen's Awards for Enterprise are one of the most prestigious awards in the world a UK business can win. The Queen's Awards only have four categories open for nominations and a notoriously rigorous criterion to fulfil.
Innovation
To enter the Innovation category you must;
have a product or service that hasn't been sold before
have had your product/service on the market for a minimum of 2 years
have recovered the initial investments in the innovation of the product through sales or be able to show that you will recover the full amount in the future
be able to show outstanding commercial success because of the innovation over 2 years or continuous commercial growth over 5 years
In addition, your innovation should be one of the following:
invention, design or production of goods
performance of services
marketing and distribution
after-sale support of goods/services
Take a look at our inforgraphic below to find out if you're eligible or watch our short video explaining the criteria.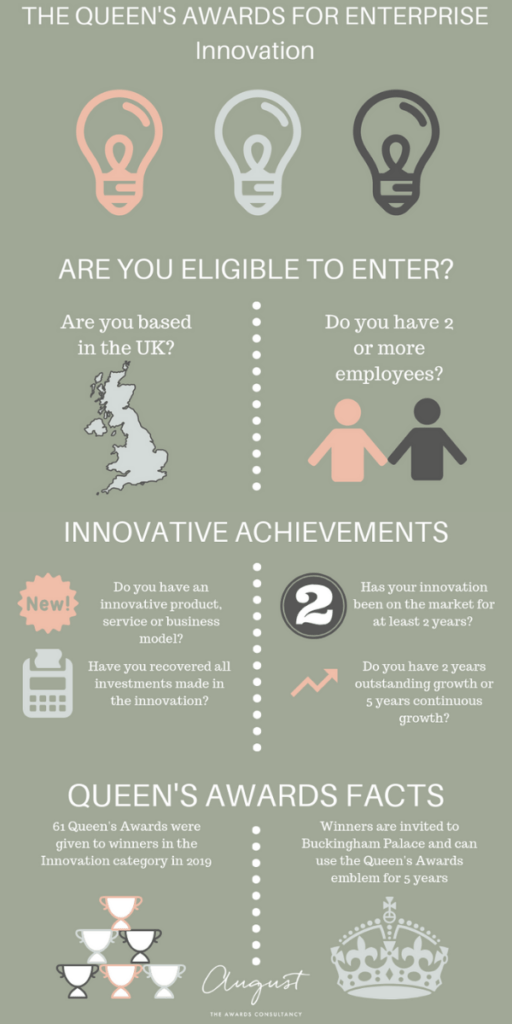 Previous Winners
Take a look at some of the winners of the Queen's Awards for Innovation from previous years;
Ultrahaptics Limited – providing unique technology which uses ultrasound to project sensations through the air and onto a user's hands. Ultrahaptic have been awarded the Queen's Award for Innovation for their innovative core technology and their ongoing commitment to innovation.
SwimTrek –  organising open water swimming holidays and excursions for enthusiasts and triathletes. SwimTrek were awarded the Queen's Award for Innovation for recognising a gap in the market and developing a one of a kind holiday experience, resulting in outstanding commercial success.
Abiligroup Limited – dedicated to creating unique IT solutions and breaking the mould. Abiligroup were awarded the Queen's Award for Innovation for their unique Cobe.io product which monitors IT systems and IT infrastructure.
Domino Printing Services – providing a range of printing services to the food, beverage and health and beauty industries. Domino were awarded their 6th Queen's Award for their A-series i-Tech printing range of industrial jet ink printers.
Choosing the right Queen's Award category for your story
The awards are rigorous, but certainly not impossible to win — so long as you fit the criteria for the chosen category and sub-category, have a compelling narrative, and can tie up your strategy, your story, and your results in a way that shows you are outstanding. If the Innovation category isn't the right fit for you, take a look at the other categories available for you to enter;
Are you ready to win a Queen's Award?
Find out if you are ready to enter the awards and how likely you are to succeed in the Innovation category by contacting us today. Arrange your FREE consultation call with our CEO and Awards Expert Donna O'Toole who will provide an honest assessment of your chances of winning.
You can find out more about the awards here or find out about our Queen's Awards for Enterprise service here.
Free Consultation
Contact us to book your free awards or personal branding consultation.
Sign up for our newsletter
You might also like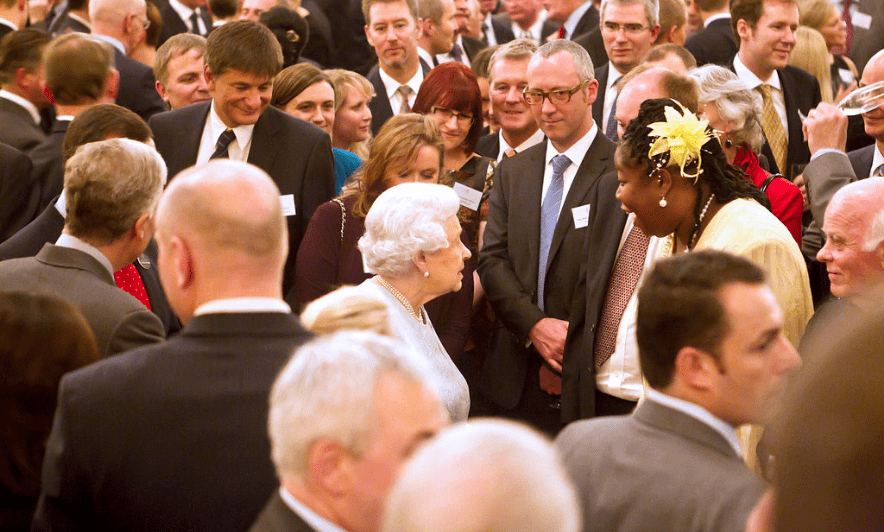 There are multiple benefits of winning The Queen's Awards for Enterprise including an invitation to a Royal reception at Buckingham Palace.
read more