The UK Digital Experience Awards 2023 are OPEN
We are delighted to be a partner of the UK Digital Experience Awards 2023 which are now OPEN for entries.
These prestigious awards – now in their 7th year – recognise businesses in the UK and their ability to push the limits of best practice and innovation in Digital Experience. As well as celebrating exceptional work in this area, their mission is to give all winners the learning and networking opportunities they deserve.
Initiatives are welcomed from any organisation: public or private, SMEs or large corporations, B2B or B2C. No matter the size, scope or sector of your organisation, if you've done great work to improve your business, these awards are for you.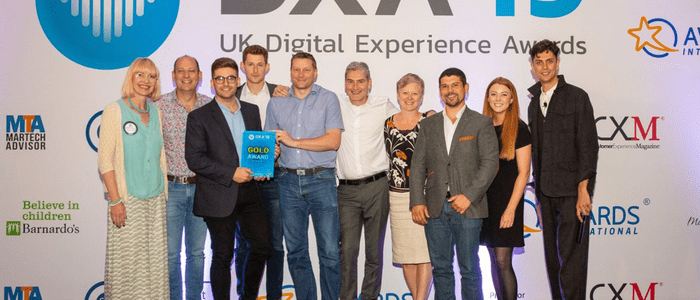 UK DIGITAL EXPERIENCE AWARDS 2023 CATEGORIES
A total of 20 categories are available, which are split into four key groups. The full list of categories includes:
Best Mobile App
Best Website
Best Use of Data Analytics & Insight
Best Use of Emerging Technologies
Best Company to Work For
Best Digital CX
Best Digital UX
Best Online Business
Best Digital Innovation
Best Use of Digital in Health & Wellbeing
Best Use of Digital in Vulnerable Situations
Best Use of Digital in CSR
Best Digital B2B Strategy
Best Digital Campaign
Best Inbound Campaign
Best Use of SEO
Best Digital Marketing Agency
Best Digital Place to Work
Team of the Year
Professional of the Year
IMPORTANT DATES FOR YOUR DIARY
Entries Open: NOW
Super Early Bird Deadline: Friday 23 September 2022 (save £250 per entry)
Early Bird Deadline: Friday 11 November 2022
Entry Deadline: Friday 16 December 2022
Awards Finals: Wednesday 15 March 2023
Awards Ceremony: Thursday 16 March 2023
Significant savings can also be made by entering multiple categories.
Click here for more information on the UK Digital Experience Awards 2023, and good luck to all entrants!
ARE YOU READY TO BECOME AN AWARD-WINNER?
If you would like some support with your entries, we are here to help. We can take care of your entries from start to finish, working with you to choose the best category, put together the best story to score highly with the judges, and to provide expert insights throughout.
Get in touch today to find out how we can support you to win.
Contact Us
Contact us now to find out which awards you could be winning.
Sign up for our newsletter
The Lloyds Bank British Business Excellence Awards 2023 celebrates British businesses' resilience, innovation and creativity. Enter now to win at these prestigious awards.
read more